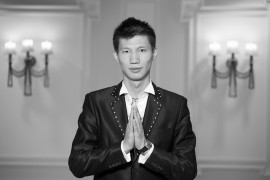 He is a caring son, a true brother and a reliable friend. But right now for all of us he is a brilliant magician who can bring lots of positive emotions, smiles, true delight and unforgettable impressions!
Zhengis got involved into such unusual occupation when he studied in middle school. Beck in those days David Copperfield became his role model. David was the one who inspired Zhengis to become such an unusual performer.
Zhengis is an active and energetic person by nature. He has stands out with his charm and magnetism. He spends a lot of his time on volunteering and charity and believes that such activities are essential part of everybody's life. Apart from that, Zhengis is interested in bonistics and cinematography.
Zhengis's first professional performance took place in the year 2010. Since that time he has been constantly advancing in the field of magic. Zhengis has already performed in a number of cities around the world. Those include Kiev, Lake George, New York, Paris, Amsterdam, Anchorage and of course Almaty. No matter where Zhengis performs, he always makes a great impression and brings joy and delight to the audience. He has already achieved many objectives he set. His next achievement, however, will deserve a standing ovation because he is going to be the first to escape from a strait jacket in Kazakhstan!